Result Charts as part of handicapping process
Dave, I utilize Formulator to accomplish. From within Formulator there is an option to access race charts. Then I can drill down into a specific race chart such as the one found below.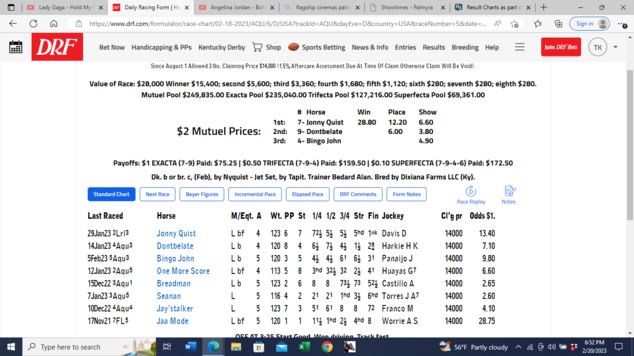 The race in question is for 2-18-23, race 6 at Aqu. When you examine the results chart you can see that both the winner and runnerup came from near the rear of the field and the 2 early leaders both faded to finish near the rear. I marked this race as an inverted race, as I believe the winners may have benefitted from the race setup and the early speed types may have been compromised by the setup. To do this, I simply click on the 'Notes' button located on the right side of the line beginning with standard chart. A small window will open allowing me to enter 'Note' for each horse in the race as well as a note for the entire race (which will be added to the PP's of each starter.) I could also choose to enter a note for the entire card which will display in the PP's of each starter.
The next time each horse runs their PP's will include the notes. I then have the option of printing the notes in future PP's.
Dave if this doesn't answer your question please let me know.